Categories Of TMJ Disorder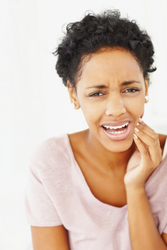 Disorders of the jaw joint and the muscles that move the jaw are known as a temporomandibular joint syndrome (TMJ syndrome). Pain, clicking or popping in the jaw, trouble opening or shutting the mouth, and restricted jaw mobility are all frequent complaints among those who suffer from this condition. Degenerative joint disease and internal derangement are the two most common forms of a TMJ problem.

Internal derangement is when the disc or ligaments within the joint are displaced or damaged. The jaw may hurt and become stiff as a result of this. Osteoarthritis, or degenerative joint disease, is caused by the gradual breakdown of joint cartilage. Due to this, it's possible to have jaw discomfort, stiffness, and trouble opening and closing the mouth.


TMJ Disorders Can Be Grouped Further

Both groups have the potential for further subdivision into subgroups delineated by symptom constellations and etiologies. TMJ dysfunction may result from several external and internal factors, including, but not limited to, jaw injuries, chronic teeth grinding/clenching (bruxism), and arthritis. Several potential triggers for the degenerative joint disease include aging, genetics, and trauma.

How a person with TMJ issues is treated depends on their specific kind and degree of illness. Easy self-care methods like avoiding hard or chewy meals, maintaining proper posture, and using warm or cold compresses to the jaw may help. It may be required to resort to pharmaceuticals, physiotherapy, or surgical intervention if the condition worsens. Untreated TMJ may cause persistent discomfort and trouble with daily tasks like eating and speaking, so you must go to a doctor if you think you might have the problem.


Get In Touch With Us

Are your teeth hurting? Address these problems immediately! Schedule an appointment with one of our skilled dentists now. We will examine your teeth and provide a customized treatment plan to help you attain a healthy, attractive smile.