Invisalign vs. Braces

Stratford, CT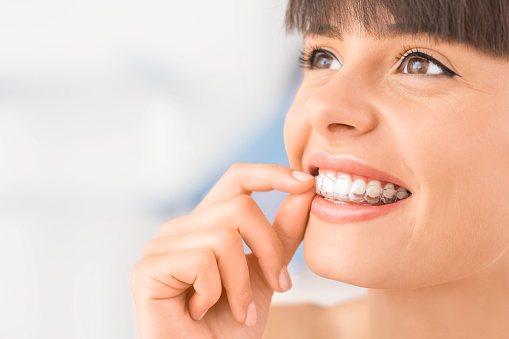 While dental braces are deemed fashionable in some social circles, there are other people who would rather not have braces on their teeth for personal reasons. These can range from comfortability issues, hygienic issues, and even aesthetic purposes. No matter the case, at Brush & Floss Dental Center we can help you decide whether you would rather have braces or aligners on your teeth for a beautiful, happy, and straighter smile!


Which One is Better?


Even though both Invisalign clear aligners and braces help keep your teeth straight, each one has its own pros and cons. On a more general note, braces are more precise and tend to be more affordable than Invisalign. However, they suffer some minor drawbacks that people wearing aligners would rather not face (if they can avoid it).

What differentiates Invisalign and braces? Invisalign are clear, removable molds that gently apply pressure on your teeth over time. This pressure corrects your teeth, aligning them to make them straight. The fact that they are removable makes it easier for you to clean your teeth, as well. Without wires to get tangled on, you can brush and floss without being worried about getting stuck on them.

Meanwhile, braces are meant to be worn until we remove them from your teeth. Despite their drawbacks, these are strong enough to set your teeth straight much sooner than aligners can. Furthermore, we do not recommend Invisalign for people who have badly misaligned teeth. Unlike clear aligners, with their limited capacity for moving teeth, dental braces are so strong and precise that we can rotate and twist your teeth even though they may be at awkward angles.

As a general rule of thumb, we only recommend Invisalign clear aligners for people whose teeth have been slightly misaligned, such as those with gap teeth, overbites, underbites, or crossbites. Although these can get more expensive than regular braces, Invisalign can spare some people the drawbacks of having braces when they could avoid it while having the same outcome. In these cases, Invisalign for teens and working adults may be a preferred choice.


Should I Get My Teeth Straightened?


Regardless of which type of treatment option is best for you, the choice between Invisalign and braces will only matter if you plan to have your teeth straightened soon. Depending on the case, we may not even recommend both aligners or braces to you. This is usually because the patient may have weak bones, or there may have been a bone loss in the jaw. Bone density is an important factor here. This is because moving the teeth can cause the bone tissue which supports the teeth to break. The worst case scenario might be that we break your teeth by accident.

Another reason a patient may not be a candidate for braces or Invisalign clear aligners is that the patient may have severely receded gums. This one is more common in people with old age, but can occur to younger people, nonetheless. If you have severely receded gums, moving your teeth around may make the recession worse.

Before deciding whether or not you should have a custom-made aligner or well-placed dental braces, it is always better to have us check your mouth first. In addition to traditional metal braces and Invisalign, we also provide other teeth straightening alternatives such as the Damon system, self-ligating braces, and Insignia. We will give you our best professional advice about which orthodontic option would work best for you. Visit us at Brush & Floss Dental Center. Give us a phone call anytime at (203) 683-5253 and we will be happy to help you schedule you an appointment right away!