How Long Does Invisalign Take?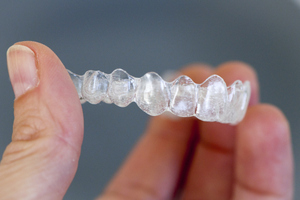 According to the American Association of Orthodontics, over one-third of orthodontic patients are over 18 years of age. At Brush & Floss Dental Center, we believe it is never too late to get a straight and even smile. Fortunately, thanks to advancements in dental technology, we now have treatment methods that are more discreet and comfortable than traditional braces.

These include Invisalign treatment.

Invisalign is a cutting-edge orthodontic treatment process that involves wearing a series of nearly-invisible plastic aligners that can move your teeth to the right position over time. This treatment is widely popular among teens and adults. But how long does it take?


How Much Time Does An Effective Invisalign Treatment Take?

There are two categories of Americans who have misaligned or crooked teeth:

| | |
| --- | --- |
| • | Those who have never had braces or orthodontic work done as a child. |
| • | Those that completed orthodontic treatment in their youth, but their teeth shifted back slightly overtime because they neglected to use a retainer. |

Whichever category you belong to, Invisalign can give you a straight and even smile without taking years.

Invisalign treatment involves wearing a set of clear aligners and then replacing that set with the next one in the series after a week or two, depending on your doctors instructions.

These aligners need to be worn at least 20 to 22 hours every day. Most people will begin to notice their teeth becoming straighter after a few weeks, but the full treatment time can take about 12 to 18 months, depending on the severity of your case. However, many patients often need to wear these aligners for just 6 months. People who have had braces in their youth and experience only a mild relapse may need to wear Invisalign trays for as little as 10 weeks.


What Affects the Treatment Time for Invisalign?

There are a few reasons why some people may have to wear Invisalign trays for a longer period of time:

Extent of Misalignment and Teeth Crowding

If you have a small jaw, you may experience teeth overcrowding and overlapping. If the misalignment is minor, Invisalign may take about 6 months to fix these issues. If the misalignment is moderate, it can take longer, about a year, to straighten your teeth. The more crowding you have, the more time it will take for your teeth to go back to their correct position.


Gaps Between Teeth

People who have smaller sized teeth as compared to their jawbone or have excess tissue growth may have gaps between their teeth. As is the case with crowding, minor gaps will take less time to fill. If the gaps are larger, it may take up to 18 months to fix your teeth.

In some cases, your jaw may be too large and it may not be possible to close the gap with just Invisalign treatment. In this case, our doctors may recommend another treatment option like traditional braces, damon braces or Insignia. Patients with a gummy smile or gummy teeth may need an aesthetic gum lift to reveal more of the tooth after braces.


Age Factor

It is easier to straighten a child or a teenager's teeth since the jaw is still growing at that time and the teeth can move faster. That is why you see a lot of middle and high school students wearing braces.

However, that doesn't mean crooked teeth in adults cannot be straightened. However, it may take longer.


Following Guidelines

One of the things that determine how fast your treatment goes is how closely you follow the Invisalign guidelines. Invisalign trays are designed to move a single tooth at a time. This can take about two weeks after which you will need to switch to another set of trays. If you do not change your tray on time, your progress will stop or at least slow down. Plus, you also need to make sure you wear the trays in the correct order; otherwise, you risk moving your teeth out of alignment.

In addition, you need to make sure you wear the trays for 20 to 22 hours every day for the treatment to be effective quickly.


No Time Like the Present to Straighten Your Teeth

Unlike the past, more and more adults are opting for orthodontic procedures these days. Invisalign is an excellent option to straighten your teeth without using metal braces. Depending on the condition of your teeth and jaw, this treatment can take less than a year.

If you are interested in Invisalign, call us at (203) 683-5253 today to set an appointment so that we can determine whether Invisalign is the right choice for you.