Invisalign For Teens

Stratford, CT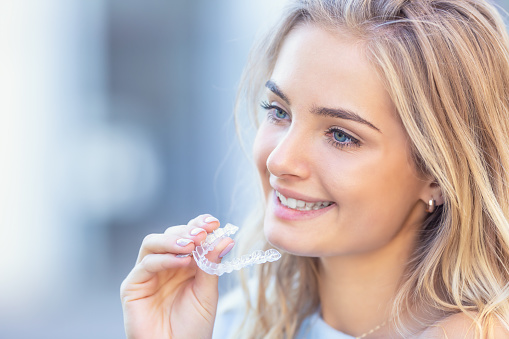 Invisalign for Teens is a series of clear, tough plastic aligner trays that are the same as standard Invisalign. Invisalign Teen is a great alternative to metal braces, as they are comfortable, easily removable and are almost invisible.

With Invisalign Teen, you can straighten your teeth and smile at the same time.

At Brush & Floss Dental Center, we can help you get Invisalign Teen so that your child can have a straight smile in a confident way.


How Does Invisalign For Teens Work?

Invisalign Teen is an innovative orthodontic treatment that has been designed specifically with teenagers in mind. The technology offers a subtle way to straighten your teen's teeth. The aligners are BPA-free and are custom-fitted to your teen's teeth.

Unlike traditional metal braces, Insignia. or Damon System - Self Litigating Braces, that use brackets, wires, or rubber bands, Invisalign Teen are all in one piece, like plastic retainers.

A teenagers can easily place them into their mouth, starting from the front teeth and working their way to the back. These aligners put pressure on the teeth, shifting them to a more accurate position. Your teen will need to replace a set of aligners with the next one in the series after every two weeks or so, depending on our instructions.

Your teenager may feel slight discomfort when the aligners exert pressure on their teeth; however, it is significantly less than the discomfort caused by metal braces.

To get the best results, your teen will need to wear them 20 to 22 hours every day and take them out only for meals or cleaning their teeth.


Benefits of Invisalign Teen

With Invisalign Teen, your teenagers can reap a lot of benefits, including:

| | |
| --- | --- |
| • | Comfortable Treatment: Invisalign Teen is made of smooth plastic, which is custom-made for a snug fit. This is one of the biggest advantages of Invisalign Teen over braces, since metal brackets and wires can cut into your mouth and cause sores. |
| • | Almost Invisible: Since the aligners are made of clear plastics, no one will be able to notice them unless they look very closely at your teen's teeth. Since these aligners are almost invisible, they do not feel self-conscious showing off their smile during treatment. |
| • | No Food Restrictions: If your teen is undergoing the treatment with metal braces, they will need to avoid eating certain foods. For example, very hard and sticky food can damage their wires and brackets. However, with Invisalign, there are no such restrictions since they are removable. Your teen can eat all their favorite food, including taffy, nuts and popcorn without risking damage to the aligners. |
| • | Improved Oral Hygiene: When wearing metal braces, food debris can get trapped between the wires, which can be extremely difficult to clean. However, with Invisalign, all one needs to do is take out the aligners and clean your teeth like normal. |
| • | Shorter Appointments: Since Invisalign trays can be easily placed in and taken out by the teen, the dental appointments are shorter since we won't have to adjust them like metal brackets. Your teen will come in every six to eight weeks and we will determine their progress. |

If you have a teen who is self-conscious about their smile, Invisalign is a great option for them. We also offer Invisalign for adults. For patients with "gummy smiles" or those who want their gums reshaped, we offer an aesthetic gum lift.

Schedule a dental exam today by calling us at (203) 683-5253.