How Aging Influences Oral Health
Posted on 8/7/2023 by Evan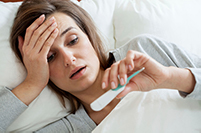 Aging, a testament to a life rich with experiences and wisdom, inherently ushers in changes to our overall health, including our oral health. Nevertheless, these changes can be navigated smoothly with the right knowledge and meticulous attention.


Oral Health Changes Accompanying Aging

Aging often introduces alterations in oral sensitivity. It's simply our body's natural response to the passage of time, impacting how our mouth feels.

Dry mouth often becomes a more common experience as we age. It's a reminder that our body requires more hydration to keep everything functioning optimally, including our oral health.

As we grow older, our gums may undergo changes, such as a slight recession. This change might make our teeth appear a bit longer, showcasing an evolved version of our smiles.

Our teeth, the loyal workhorses they are, might show some signs of wear over time. These signs are their medals of honor, signifying a life filled with hearty meals and countless conversations.


Prioritizing Oral Health in Aging

When it comes to maintaining oral health during our golden years, several strategies are especially effective:

Staying well-hydrated can mitigate the effects of dry mouth, contributing to a healthier oral environment. Implementing routine dental care practices, like regular brushing, flossing, and dentist visits, become even more crucial. They're our allies in ensuring our smiles continue to shine brightly. Also, a balanced diet, packed with vitamins and minerals, can support strong and healthy teeth. It's a fantastic way to thank our teeth for their unwavering service over the years.


Conclusion

Aging and oral health are two dancers in the waltz of life, moving in sync with each other. Recognizing these changes and adjusting our oral health routine can make this journey harmonious and enjoyable. After all, every wrinkle, silver hair, and sign of tooth wear is a cherished emblem of our accumulated wisdom and experiences. Our evolving smiles are a testament to our journey, displayed for the world to see. As such, let's age with elegance, nourishing our oral health at every stage.