Fevers Combined with Dental Pain Usually Point to a Dental Abscess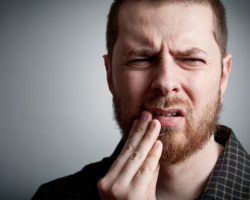 A fever can be a daunting event at any age. However, if your fever is coupled with other symptoms, it's time to take notice of what your fever might be telling you. Could you have an abscessed tooth if you have a fever accompanied by dental pain?


What is an Abscessed Tooth?

An abscessed tooth is often the result of a bacterial infection on the interior of your tooth. Specifically, the abscess is a pocket of pus that forms inside your tooth. It is important to treat a dental abscess as soon as possible as this condition can become life-threatening.


Watch for These Symptoms

The most common symptom of a dental abscess is severe pain. The pain in your tooth can be so strong that it radiates throughout your face. Throbbing pain which does not go away could be a sign of a dental abscess. Additionally, if you have a dental abscess you may have a high fever, swelling in your face, or a rapid heart rate. Patients also report difficulty swallowing or breathing in the presence of a dental abscess. Another sign may be confusion. If you have these symptoms you will need to go to the emergency room as these are signs of a serious infection that may have originated in your tooth as a dental abscess. Most likely, you would have felt a strong toothache before these advanced symptoms become apparent.


Call for Your Appointment

If you have any pain in your mouth it would be best to call our office right away to make an appointment so we can help you feel better and treat the dental issue. We want to help you before the problem affects your whole body. Give our friendly office staff a call today to come into our office.