Preterm Birth Occurs Frequently When Mothers Have Poor Oral Health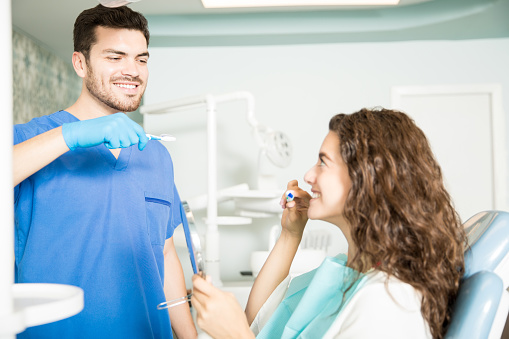 Your dental health contributes to your overall health. This fact is especially relevant if you're pregnant. During pregnancy, your body undergoes many hormonal changes. These changes sometimes cause an imbalance, leaving you vulnerable to disease. Studies have shown that the state of your teeth and gums contributes to the well-being of the baby growing inside your womb. Also, studies have shown that pregnant women with gum disease are more likely to give birth before term. Therefore, to avoid infection, it is essential that you understand how it starts and what exactly it does to you.


Relationship Between Preterm Births and Poor Oral Health

When you leave food particles in your mouth after eating, they mix with saliva to form plaque. Plaque sticks to the surfaces of your teeth and is easily removable using your toothbrush or dental floss. However, it sometimes sticks in places your toothbrush cannot reach. Spaces such as those in between teeth or inside cracks and missing teeth become a risk to your dental health.

When you fail to clean out plaque, it starts to harden to form a substance known as tartar. It calls for a professional to use special tools to clean out tartar from your teeth. Bacteria collects in this tartar and starts to feed off other food particles in your mouth, with a particular affinity for sugars. Once the bacteria has grown, it finds its way into your teeth or gums, infecting you in the process.

This infection might spread from your teeth and gums to the rest of your body, including the placenta. An infected placenta gets irritated and induces labor in the process. This induction is the cause of preterm labor, which puts both the mother and child at significant risk.


Let Us Handle It

Pregnancy comes with its fair share of challenges. Taking care of your teeth should not be one of them. We recommend that you visit our offices and let us handle any dental issues you have to avoid unnecessary risks. Contact our offices for information on the relationship between preterm births and poor oral health.