When Should I Take My Young One to the Dentist?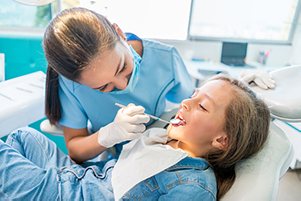 Taking your child to the dentist regularly will help them develop good oral habits. Apart from that, they will learn to be confident when going to their pediatric dentist. Children are often afraid of going to the dentist, but if you train them as early as possible to go for dental exams, they will not be afraid of the dentist or the equipment in a dentist's office.


Why Should I Take My Child For Dental Checkups?

Dental checkups for children ensure they do not develop tooth cavities and decay. Children love consuming a lot of sugary foods and drinks, which is bad for their dental health. But if you frequently come with your child for pediatric dental examinations, it helps them improve and maintain their oral health. Apart from that, oral checkups ensure that your child's teeth develop well. If the dentist notices some crooked or misaligned teeth, he will put your child on orthodontic treatment to ensure their teeth are well straightened.

Dental visits for kids also help your dentist teach your child how to brush their teeth. If they are still too young, the pediatric dentist will show you how to clean your child's teeth. He will also advise you on the best dental products to use on your child's teeth.


When Should My Child Go to the Dentist?

As soon as your baby starts to have teeth, it is advisable to take them to the dentist. When babies are teething, they always experience discomfort around their gums, and your baby's pediatric dentist will tell you what to do to help them feel comfortable. It is also important to understand that baby teeth are important for the proper development of adult teeth, and that is why your baby should see a pediatric dentist regularly.

We welcome you to our dental clinic today to get the best dental services for your little one. Our pediatric dentists are well trained and know how to talk to kids to make them feel comfortable during oral procedures.