Occlusal Adjustment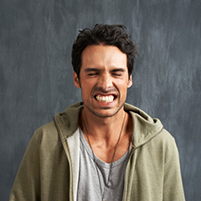 When you clench your jaw and bring together your back teeth, your top front teeth should close slightly ahead of your bottom teeth. If the bottom teeth are in front of your upper teeth or if the back teeth do not match, then it means your bite is not aligned properly and you have a malocclusion.

A malocclusion may not seem a big deal to many people, but it can cause serious, lifelong dental issues, like bruxism, and preventing your mouth from fully closing. At Brush & Floss Dental Center, our doctors can correct your bite for normal chewing and prevent other dental issues from arising later in life through dental occlusal adjustments.

Occlusal adjustments, also called bite adjustment, is a treatment that involves the removal of the interference, which causes bite misalignment or crooked teeth.


Complications Resulting From Malocclusion

An untreated malocclusion may lead to serious issues that may require expensive treatments:

| | |
| --- | --- |
| • | Fractured or chipped teeth. |
| • | Lost or missing teeth. |
| • | Overcrowding of the mouth due to too many teeth. |
| • | Tooth sensitivity leading to severe pain resulting in the need for root canal therapy. |
| • | Exacerbates periodontal disease. |
| • | Bone recession. |
| • | Temporomandibular joints or jaw joints problems. |
| • | Bruxism or night-time teeth grinding, resulting in enamel wear and jaw pain. |
| • | Click or popping noise when opening or closing the jaw. |
| • | Nerve or muscle damage. |
| • | Damage to restoration options like dentures or dental implants. |
| • | Headaches which can turn to migraines. |
| • | Facial muscle spasms. |
| • | The condition may also prevent you from smiling. |
What Does An Occlusal Adjustment Involve?

At Brush & Floss Dental Center, we can treat a misaligned bite:


Reshaping the Biting Surface of the Teeth

The procedure involves filing and reshaping the uneven, rough, or misshapen tooth surface. Depending on the severity and extent of the condition, we may reshape one or two teeth or multiple teeth so that they come together in the right way when you bite down.


Dental Reconstruction

We may also repair cracked, chipped, or broken teeth and fill out cavities. We may have to remove old fillings and replace them with new ones. Some teeth may also require protection with the help of a bonding material or a dental crown. The aim of these restorations is to ensure your teeth remain as healthy as possible.


Oral Splints or Mouthguards

Our doctors will first take an impression of your teeth and will construct a custom-fitted oral splint or mouthguard just for you. You can place these mouthguards during the night or whatever times we recommend in order to prevent problems arising from a misaligned bite, such as teeth grinding and jaw pain.


Orthodontic Treatment

If we believe your malocclusion is severe enough, we will recommend orthodontic treatments for you, like the use of aligners or braces. These can shift your teeth to their correct position so that your teeth can close properly.

If you are unable to align your teeth or close your mouth, you may have a malocclusion. We strongly recommend you visit us for treatment before the condition worsens and you have to resort to multiple, expensive, more invasive procedures to fix your bite.

Whatever treatment we recommend you, you need to make regular visits to us so we can check the progress of your teeth and jaw and ensure the treatment is working as expected. To schedule an appointment with us, call us today at (203) 683-5253.