Orthodontics for Kids and Teens

Stratford, CT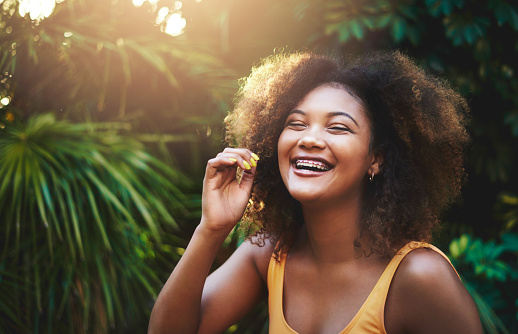 Braces Then and Braces Now

In decades past, most people got braces as teenagers. However, today, orthodontists are prescribing braces at a much younger age. Why is this? Permanent teeth usually erupt at age six or seven, so orthodontic problems start to manifest themselves at that time. Because the child's bones are continuing to grow, this is a critical time to evaluate them to see if any orthodontic treatment is needed either at present or shortly.

Orthodontists have taken action to make braces more appealing for their newer, younger audience. For example, elastics (small rubber bands) are made in a variety of bright colors for kids to choose from to make their pattern for their braces. Our friendly staff is determined to make orthodontic appointments as much fun as possible for kids.

Dental technology has also improved kids' braces over the past few decades, making them more comfortable than those worn by the last generation. It's also comforting that since braces treatment has increased for kids, there are now more options available than just the traditional metal braces with brackets and wires. At Brush & Floss Dental Center we also provide Invisalign, the Damon System, self ligating braces, and Insignia. All of these work to shift the teeth into alignment, with more discreteness.

Braces had a lot more metal and a lot fewer comfort decades ago than they do now, but it still takes time to adjust to them. Food can get stuck in them, and flossing can take longer than usual. Adjustments can leave your teeth sore, but this discomfort is alleviated by painkillers such as Ibuprofen. Braces today use lighter and more flexible wires, reducing the amount of discomfort or soreness during treatment.


Do All Kids Need Early Orthodontics?

Early orthodontic treatment can help in certain cases, but it doesn't apply equally to any orthodontic problem. However, if the front teeth protrude too much, they are more vulnerable to become fractured or injured, and crossbites can cause the jaw to form unevenly. Both of these are conditions that need early intervention.


What are the Benefits of Early Orthodontics?

By intervening early, we can take advantage of the fact that a child's jaw is still in development. It is considered early intervention when a child's jaw and dental arches aren't yet in their proper position. We offer functional appliances that fix or improve these conditions. Later on, more treatment generally is required, but it is often shorter and simpler.


Suggestions for Early Orthodontics

We recommend teaching your children about the importance of oral care from an early age. Here are a few tips:

| | |
| --- | --- |
| • | Tell your child to rinse their mouth out with water after they eat to loosen any food stuck in their braces. Then they should brush thoroughly. |
| • | Help your child floss every night. Flossing loosens food residue and plaque on and underneath the gum line that can harden into tartar. It also allows access to spaces that are harder to reach with a toothbrush. |
| • | Come in for a dental check-up and cleaning once every six months. our doctors will highlight neglected areas and ensure you're helping to keep your child's teeth clean and healthy. |


To schedule a consultation for orthodontics for your child or teen, call our office at (203) 683-5253.