Rejuvenating Dentures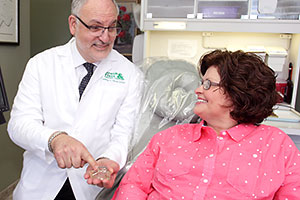 Dentures that make you look younger!

Have you ever wondered why dentures tend to make a person appear older than they really are?

The answer has a lot to do with bone health. Dentures conventionally rest upon the bony ridge left empty of teeth. When teeth are missing, there's no stimulation of that bone, normally provided by chewing. The bony ridge starts to shrink into the jaw. This is a process known as resorption, or bone loss.

Gradually the face starts to appear sunken-in toward the mouth. The lips become thinner and wrinkles appear around the mouth. Not only is a person's appearance altered, but the person's bite becomes misaligned. Since chewing is difficult with traditional dentures, the bite misalignment can be aggravated. Among other effects of a poor bite, some of the facial muscles become continuously tensed.


Reverse the effects of missing teeth!

Our doctors can help reverse the effects of missing teeth with Rejuvenating Dentures. Rejuvenating Dentures are designed for you and only you. They counteract the gradual facial collapse that occurs when a person has been missing teeth for a long time. Your new dentures work for you to plump out lips, lessen wrinkles, tighten the neck and help fill out the face. Our patients absolutely love them!



These patients all had their smiles restored with Rejuvenating Dentures.
Candulor – Porcelain denture teeth

Our doctors use the highest quality materials and the most lifelike teeth available when creating your Rejuvenating Dentures. Candulor teeth are hand-crafted one by one, using a unique layering method that gives a personal touch of individuality and creativity.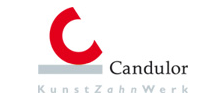 The porcelain material has a translucent quality that simulates the appearance of real teeth. With a variety of 16 shades available, your Rejuvenating Dentures are designed to match your natural look, and the porcelain component provides the highest longevity in teeth replacement options.


How do Rejuvenating Dentures work?

Our doctors carefully measure your facial dimensions and test your bite. They use high-tech equipment and techniques to correct your jaw alignment.

When you are fitted with Rejuvenating Dentures, bite abnormalities are resolved by allowing your facial joints and muscles to go back to their optimal position. Your occlusion (the way your teeth fit together when they're closed) goes back to its correct height. This provides maximum facial support. For perhaps the first time in years, your facial muscles are relaxed. With this process, your dentures will truly fit.

That means they function best. And the result is a more relaxed, younger looking you!


Denture Stabilization with Dental Implants

Denture technology has come a long way since the early days of simply providing people with false teeth. For added stabilization, your high-quality, custom Rejuvenating Dentures can be attached to implants. This puts the chewing pressure load onto the implant instead of on the bony ridge tissue alone.

Since an implant simulates a tooth root, it makes a more natural construction on which to build a chewing mechanism. As a result, you have more chewing power and more comfort.


Types of dentures we offer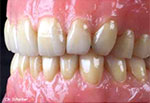 Rejuvenating Dentures

When all the teeth are missing or are beyond repair, our doctors create comfortable Rejuvenating Dentures for a more youthful denture look. By themselves, these are held in place with a denture adhesive, but they can also be supported by dental implants for added strength and stability.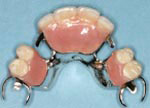 Partial Dentures

Traditional partial dentures are held in place by metal clasps that go around existing teeth to secure the partial dentures in place.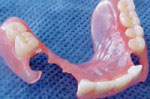 Flex No-Metal Partials

With flexible, no-metal partials (some with a cosmetic clasp), no one will notice you're wearing a partial denture.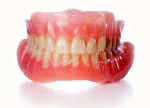 Immediate Dentures

These are placed immediately after any teeth are extracted so you can leave our office with an aesthetically pleasing, comfortable, temporary denture while your gums heal prior to a permanent denture being placed.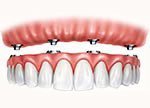 Implant-Supported Dentures

Implant-supported dentures can be fixed in the mouth or removable. (In either case, there's no need for a denture adhesive.) Our doctors consult with you on your needs and budget and will choose the type and number of implants that will work best for you.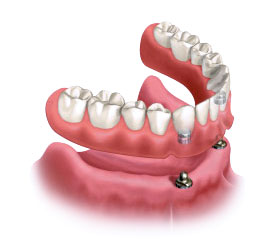 Denture Stabilization

We can take your existing dentures and retrofit them with dental implants. This gives you strength and stability that far exceeds conventional dentures.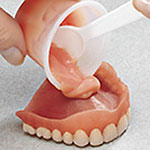 Relines and Repairs

We take care of any soft relines and repairs you need here in our office. Hard relines are handled by our excellent denture lab.